Acceptable Use of Qualtrics
As per the Acceptable Use Policy, Qualtrics users agree the platform is to be used solely for authorized academic, administrative purposes, and/or incidental, non-commercial personal use and agree to assume responsibility for any unauthorized use, misuse or illegal use of this computing resource.
Qualtrics users are required to use one of the Western University branded themes located under the Look & Feel tab as to identify the survey as a Western University affiliated survey.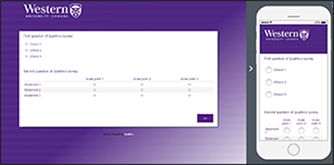 Interested in using MySurveys?
If you are a Student you already have full access to Qualtrics, simply use the LOGIN button to enter. 
If you are Faculty or Staff please check with your department administration to see if you have opted-in for use. 
If you are a Department Admin and would like to recieve more information on how to opt-in for Qualtrics use please create a Service Desk ticket. Specify your interest in Qualtrics use, your name, contact info, and department. 
Western has partnered with Qualtrics
Western has partnered with Qualtrics, the world's leading enterprise survey technology provider. Qualtrics takes Western University's survey solution to a new level. By partnering with a proven leader in the industry, Western can ensure a single platform for all your survey and data collection needs. Qualtrics offers a survey solution that is easy to use, allows for ultimate flexibility, scalability and a truly secure method of gathering the data you need.
---
Published on  and maintained in Cascade CMS.